Tidy up and clean its jewels
Tidy up and clean its jewels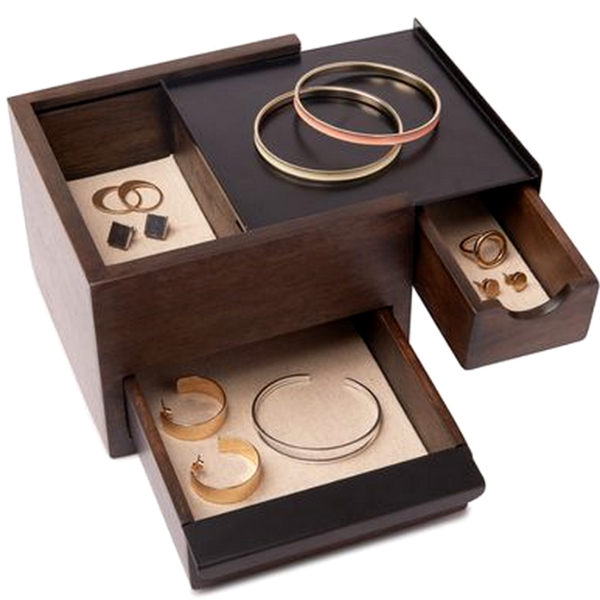 If your concern is to keep as long as possible and in an irreproachable state your treasures, this guide is made for you.
Tidy up, clean, maintain, tricks, go hup! That has to shine!
THE STORAGE
It is important to tidy up carefully your jewels, you will win at it in clarity (we do not have time to look for 1/4 an hour the jewel which goes with its outfit) and especially you will avoid chains and tangled necklaces, orphan earring, damaged stones, any jewels crossed off or twisted.
You can of course opt for jewelry boxes, those sold in jewelry stores are ideal (often covered with fleece) but expensive ... You will find much cheaper everywhere, think of decoration shops and discount stores which very often sell them. very pretty.
A cost-effective storage solution is small locker boxes for storing screws, for example. And yes, you can find your jewelry box in DIY stores! Preferably choose transparent and find your jewel in the blink of an eye. Certainly less glamorous but inexpensive and so practical!
The fabrics pouches are ideal for your precious jewels. The jewelers offer gracefully these dress handkerchiefs when you buy one jewels. They are also very simple to realize, some fabric, some sewing or some little glue and it's done! (To note: essential for cultured pearls, it is recommended to tidy up in a pouches).
For earrings and piercings
To store your earrings or your piercings, you can prick them or clip them on cardboard, preform the holes with a needle. You can also store them in small matchboxes. (We find white ones to customize at
creavea.com
for exemple)
And why not make them? We have listed 2 links to sites where you will find manufacturing tutorials and materials. Thousands more are waiting for you on the net.
The silver oxidizes quickly, to avoid too much boring cleaning, store your jewels in small plastic zip bags (on the net or in the stores of creative leisure activities). One trick which we use on our
shop
to store our creations and our material, it works very well.
Never tidy up your chains and necklaces without closing them especially if you throw them in bulk in your box to jewels.
Separate your jeweled rings, the ideal is to tidy up them one by box, locker or pouches, you avoid scratches especially if they are fake.
It is highly recommended to storing jewelry pearls separately and in a fabric pouch.
THE CLEANING
Warm water, liquid soap and an old toothbrush are enough to restore radiance to your jewelry and hunt all bacteria. Immerse your jewelry in soapy water, wipe gently with the toothbrush, rinse thoroughly and wipe your jewelry with a soft cloth. Warning, soapy water is not recommended for the Amber, Jade, Lapis Lazuli and Turquoise.
The chamoisine, the felted fabric soaked with cleaning product, is perfect to polish its jewels before wearing them. You will find the chamoisines in jewelry stores, department stores and on the net.
Grandma's recipes:


Toothpaste and an old toothbrush, gently scrub and rinse thoroughly.
For silver jewelry, take the cooking water for potatoes, soak a cloth (not the gem!) in this water and rub your jewelry.
To avoid that your silver jewels darken, put them in a pan of hot water added by lemon juice until boiling. Then rinse carefully and dry them with a chamois leather or a soft cloth. Attention however on your jewels with precious stones, certain stones not resisting the heat, and especially if they are fake.

The Mercryl or a similar disinfectant (without alcohol) cleans very well the jewels. Make your jewelry soak a few minutes (more if the jewelry is very dirty), brush, rinse, dry, it shines! Also ideal for disinfecting earrings, much better than too corrosive alcohol on low quality metals.
photo jewelry box UMBRA modèle Stowit (small)
The latest jewelry creations made by LLule
clean tidy up jewelry box jewelry