The skin jewelery
The skin jewelery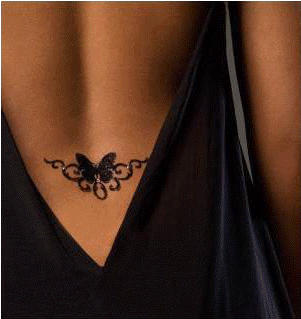 A new way to magnify its body and its look ...
Check out these pretty precious, the creators and our favorite shops.

A phenomenal success for this new fashion accessory on all the catwalks, magazines and of course the celebrities, the body jewelery is absolutely everywhere !! Hard not to crack in front of so much creativity and beautiful materials ... It remains only to let ourselves enchanted by the charm of these skin jewelery, refined and ultra feminine. Easy to use and gorgeous to look at, the skin jewelery have nothing to do with the Malabar decals. Rhinestones, lace, sequins, beads, one should consider them as precious jewels (some reach prohibitive prices!). On the ankle, shoulder, neck, wrist, stomach, above the kidneys, neck and even on the face, this beauty accessory take place everywhere. Whatever body jewelery chooses, one can be sure we will not go unnoticed. The slightest jeans / t-shirt accessorized with jewelry skin become so 'trendy! A great alternative for those who do not want or do not dare to cross the door of the tattooer. Instant, the skin jewelry can be installed and removed whenever you want. A single or repositionable use, the skin jewelery is the new must-have accessory for small or large occasions.


Many sites are dedicated to the jewels of skin, we've listed our favorites here:
IN MARBELLA
A
deline Moniez created his first collection in 2005 "Making of" that will be aired very early in prestigious places in Paris. Marbella therefore sign with French and international Haute Couture fashion and adorn the parades of his exclusive lines. Marbella annually presents 4 collections going repositionable tatoos to the sophisticated jewels of skin, realized in Paris and made according to a craft know-how. Marbella also creates custom-made fineries.
IN INES DE CASTILHO
I
nes de Castilho made her debuts as decorator at Christian Dior, then at Yves Saint Laurent. In 1999, she creates the jewels of skin and her 1st company of design. Very fast his talent is imperative in this sector. Today Inez de Castilho is a creator recognized in the world of the fashion accessory. Inescapable, his works transport us in his world of sweetness and romanticism.
IN BODY'SIGN
S
ophie and Aline Raout create jewels of skin entirely hand made, in France, from hypoallergenic materials strictly selected, from laces, from glitter and from crystal of Swarovski. These very talented sisters has imagined for you fineries of skin specific to suit all the styles of femininity. Bodysign is ready for use, easy to install and remove. They can be worn several days or repositioned multiple times. Their longevity is still increased by the supplied adhesive refills. They can also decorate your hair, clothes, nails, and what makes us crack the + is that all models are customizable, you can choose from a wide range of tones, color paillete or rhinestones. Finally for those who feel creator's soul of the small kits " to be made oneself " are proposed to you.
IN KARNYX
K
arnyx, French brand specialized in the jewelry, is born in December, 1998. The Karnyx shop settles down in Paris. The brand reinvents the work of jewelry by launching on the market various styles of jewels of skin. The shop enjoys a total freedom in the creations Karnyx. The peculiarity of Karnyx lies in the choice of materials it uses and the original style of each of its articles. The brand Karynx proposes a wide choice of ranges of jewelry of skin. Unfortunately the site of the brand is closed, we found a shop on the net which sells some creations Karnyx (click the photo or on eye to discover them). If you make a small tour on Paris, the shop is in 13 Saint Gilles street Paris 75003.
shopping jewelry jewelry box skin jewelery